Clearance and salvage of stern end of WAKASHIO ship in Mauritius
Project introduction:
On July 25, 2020, the bulk carrier "nakashio" ran aground and fractured off the southeast coast of Mauritius. After the bow section was removed, "Hongbang 6" ship cleared and salvaged the stern section. On January 16, 2022, all fishing operations were successfully completed.
Vessel information:
Shipowner

Okiyo Maritime Corporation

Insurance company

Japan P&I

Water depth

15m

Deadweight ton

13814T

Total length

299.95m

Profile width

50.00m

Profile depth

24.1m

Gross ton




101931T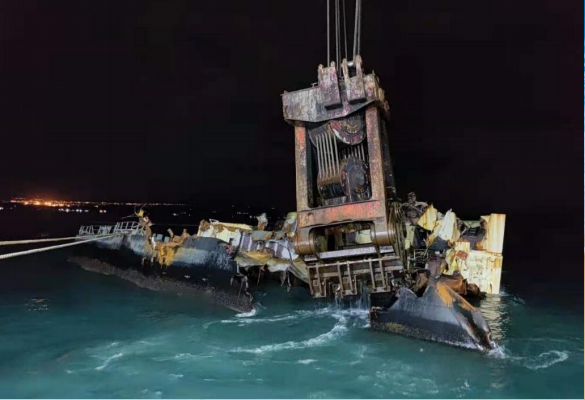 What is channel dredging?

[2022-05-16]

Dredging is an underwater earthwork excavation project that uses manpower or machinery to dredge, expand or excavate deep rivers, lakes and other waters. For a long time, channel dredging has been an

Basic principle of sunken ship s

[2022-05-16]

What is the treatment principle of sunken ship salvage underwater engineering? The basic principle of underwater engineering is chemical grouting. Chemical grouting is to inject the pressure polymer m

Environmental requirements for u

[2022-05-16]

Underwater cutting is another underwater project. With the rapid development of economy, underwater cutting is more and more widely used. What are the environmental requirements of underwater cutting?